Baoji Xinlian Titanium Industry Co.,Ltd is one of the leading China titanium cotter pins, titanium split pins manufacturers and suppliers,
and also a professional company equipped with factory, welcome to wholesale titanium cotter pins, titanium split pins from us.
Titanium Cotter Pins/Titanium Split Pins
Standard: DIN94
Material: Pure titanium,Titanium alloy
Grade: Gr1,Gr2,Gr5(Ti6al4v),Gr7,Gr9
Specification: Dia2-13
Surface Treatment: Polishing,Anodizing, Nitriding
Color: Ti nature,Gold,Blue,Green,Purple,Black,Rainbow
Application: Airplane,Ship,Bicycle,Motorcycle,Auto,Medical,Chemical,Sports,Weapon,etc.
Features: Light weight,acid and alkali resistance,anti-corrosion,excellent mechanical properties,etc.
DIN EN ISO1234
DIN94
Titanium Split Pins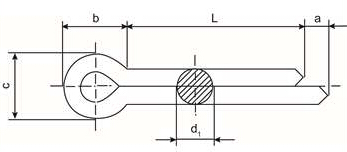 Unit: mm
Dia

2

2.5

3.2

4

5

6.3

8

10

12

d1

max

1.8

2.3

2.9

3.7

4.6

5.9

7.5

9.5

12.4

min

1.7

2.1

2.7

3.5

4.4

5.7

7.3

9.3

12.1

c

max

3.6

4.6

5.8

7.4

9.2

11.8

15

19

24.8

min

3.2

4

5.1

6.5

8

10.3

13.1

16.6

21.7

b

4

5

6.4

8

10

12.6

16

20

26

a

max

2.5

2.5

3.2

4

4

4

4

6.3

6.3

min

1.25

1.25

1.6

2

2

2

2

3.2

3.2

L

4-200